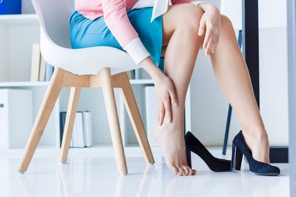 How well do you know your veins? Take our quiz to see you measure up.
TRUE or FALSE?
If you can't see them, they aren't a problem.
False! Some people think that varicose veins are primarily just a cosmetic issue, but this is far from the truth! Varicose veins often cause pain and discomfort, including burning, throbbing, itching, and tenderness—even if you can't see them! Women are more likely to suffer from hidden varicose veins, due to an extra layer of fat on their bodies.
Your wardrobe can harm your vein health!
True! Did you know that high heels are extremely hard on your veins? Low-heeled shoes are better because they work out your calf muscles more. The other issue is your skinny jeans! Tight clothes around your waist, legs or groin can reduce blood flow and encourage blood to pool in your legs, which contributes to varicose veins or worsens existing problems.
Running DOES NOT cause varicose veins.
True! Contrary to popular belief, running does not cause varicose veins. Your veins actually love exercise because it helps to maintain a healthy flow of blood throughout your body — as opposed to long periods of sitting or standing, which encourage blood to pool. Unfortunately, genetics also play a major role, and there's nothing you can do about your genes. But here's what you can do: Maintain a healthy weight so there's less pressure on your veins, and exercise regularly. Your veins love low-impact activities like walking, swimming or cycling.
Home remedies don't work.
False! In addition to losing weight and exercising, there are other ways to help boost your vein health. Putting feet up, wearing compression stockings, and avoiding long periods of sitting or standing all help to ease varicose vein symptoms and prevent your veins from worsening. Natural remedies may help, too. The yummy spice turmeric helps to reduce bleeding, and avoiding salt helps to decrease swelling caused by water retention.
Board certified vein surgeon Dr. Surya Challa offers years of training and the most advanced technologies for improving vein problems with minimal downtime in Chesapeake. If your veins are causing you discomfort or pain, don't wait to call us for a consultation! Please call  757.663.5461 or request a consultation today!