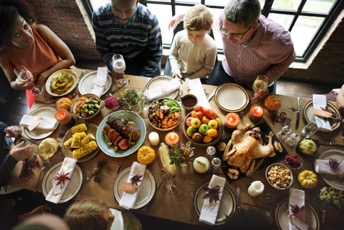 We admit that "healthy" is probably not the first word anyone would use to describe Thanksgiving. Turkey, mashed potatoes and gravy, savory stuffing, and pumpkin pies usually top the list. Still, this national feast day offers a surprising range of health benefits. The key is in your perspective.
Here are some research-backed tips for getting the most out of Thanksgiving and every holiday season:
Instead of counting calories, count your blessings.
Gratitude is a cure-all. Numerous studies indicate that grateful people are more likely to be happier, get work promotions, make friends, report lower stress levels, and live longer.
Take a power nap.
You might think twice before making fun of Uncle Jerry for snoozing with a full belly in front of the TV every year. Turns out that napping is another powerful panacea, reducing stress, boosting energy levels, and sharpening your mind.
Join the conversation.
You're not just making small talk when you discuss your work or new hair cut around the dinner table. You're also investing in your emotional health and well-being. Psychological research indicates that you're more likely to be resilient and confident in life if you are grounded by routine family events like dinner, during which your family shows they care by asking, "How's it going?"
We're committed to helping you attain optimal vitality from the inside out! To learn about our leading selection of aesthetic and wellness treatments, call 757.663.5461 or schedule a personal consultation today!