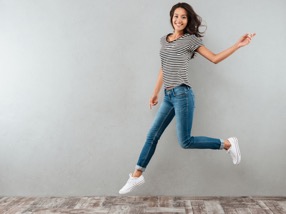 While Mother Nature is busy renewing the Earth, it's time for you to get busy waking your complexion from its long winter nap. One of our most trusted tools for skin rejuvenation is the peel, commonly referred to as the chemical peel. But we go a step further by offering two types of peels to meet the widest possible range of skin types and goals—the chemical peel and the laser peel.

Here's a look at the benefits of these two peels:
Chemical Peels
This age-old skin care treatment has been around the block and stood the test of time because it works! In fact, chemical peels were recently named a Most Worth It Treatment in 2019 by RealSelf, a trusted online quality purveyor of aesthetic treatments that bases its awards on real patient reviews. Chemical peels exfoliate the outermost layers of your skin, removing dead, dull skin cells and other impurities to reveal an intensely refreshed and revitalized complexion. We love chemical peels because they are appropriate for every skin type and concern and can be tailored to your skin's exact needs. Whether you're in the market for a mild peel or a deeper treatment, our aestheticians will devise a treatment plan to meet your unique goals. We recommend a series of peels for your best results.
MicroLaserPeel™
Rather than chemicals, the MicroLaserPeel uses laser energy to treat the skin. This advanced laser is often referred to as the weekend peel because it can resurface your skin with only a few days of social downtime. We love MicroLaserPeel because it offers precision and can be adjusted in intensity to provide only the benefits you need.
To discover which peel best suits your needs, please call 757.663.5461 or request your consultation online today!