The warmer weather is right around the corner, we can feel it! If you're more worried about not wanting to show off your legs this summer because of bothersome spider veins or small varicose veins, we know how you feel — and that you deserve care-free confidence! The vein experts at Chesapeake Vein Center & MedSpa can help with laser vein treatments and sclerotherapy — two proven solutions to help you reclaim smoother, clearer skin and the resulting confidence to wear shorts, dresses, whatever you'd like! This month, we're committed to helping you banish pesky veins with 10% off laser vein treatments and sclerotherapy.
Not sure what to expect from these treatments? Don't worry, that's where we can help. We believe in helping inform people about our services and what to expect, so you can make educated decisions ahead of your personal consultation!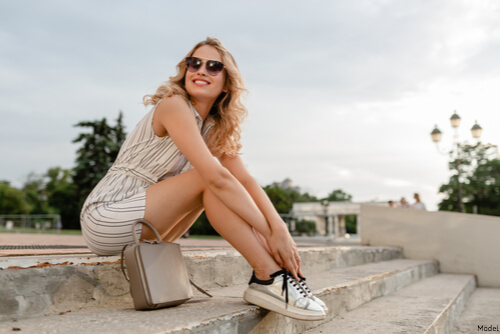 What should I expect from laser vein treatments in Chesapeake?
This non-invasive treatment uses laser light to target and erase spider veins by causing them to collapse and gradually fade from view. Laser vein treatments are a great option when targeting spider veins on the face, as well as the legs and anywhere else on the body. This popular and well-tolerated option calls for little to no downtime and may require a series of treatments for optimal results, depending on the severity and number of veins being treated.
What should I expect from sclerotherapy in Chesapeake?
This minimally invasive treatment is ideal for erasing spider veins and small varicose veins anywhere on the body. During treatment, we will inject a saline solution into the targeted veins, which causes them to constrict, close and eventually fade from view over the following days and weeks. We encourage you to walk and move around immediately after treatment to spur healthy circulation, but don't worry about blood flow. When your targeted veins close, blood flow is simply rerouted to healthier veins. All you'll have to worry about is how best to show off your smoother, clearer skin. For severe spider veins, a series of treatments may be recommended for optimal results.
Dr. Surya Challa is an acclaimed vein specialist and has performed over 1,000 sclerotherapy procedures. If veins are your concern, Dr. Challa is the man you want to see!
Treat yourself to renewed comfort and confidence this month by saying goodbye once and for all to spider veins and small varicose veins! Learn more about these treatments and our variety of other aesthetic and vein services by calling (757) 819-7633 or requesting a consultation online today. Our team is ready to answer any questions you may have and help you achieve your aesthetic goals!