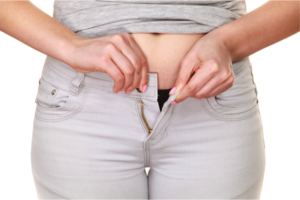 It's safe to say that almost everyone on the planet has made the resolution at one point or another to be "healthier" in the new year. After a season of indulging in rich foods and sinful desserts, it's a rare person who doesn't feel compelled to diet and trim down their bulging belly.
It's also fair to say that this resolution can be overwhelming, which is exactly why we are thrilled to recommend CoolSculpting® non-invasive fat reduction! CoolSculpting is the help that you've never had before. It's a miracle of sorts because it helps your body to naturally expel excess fat without any effort on your part, aside from physically attending your appointment and allowing our clinicians to administer treatment.
Here's the thing about being "healthier." A diet and exercise plan will always play a vital role in your overall health and wellbeing, but they may be no match for those persistent pockets of fat on your belly, arms, chin, or thighs. CoolSculpting is perfectly tailored to help tame these trouble areas so you can feel confident and empowered, not defeated and discouraged. It's a perfect addition to your healthy lifestyle habits, and an easy way to help you get closer to achieving your ideal contours so you can spend less time scrutinizing your bulges in the mirror and more time feeling fabulous!
Give yourself a little help this year and schedule your CoolSculpting consultation today. Call 757.663.5461 or click here for a free consultation.