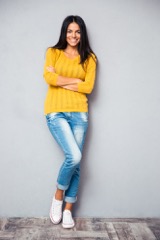 Your confidence plays an important role in your everyday life, and achieving your ideal body can give it an enormous boost. However, sculpting your body through diet and exercise alone can be a long and difficult process. It can feel like you're getting nowhere when results are slow to appear. CoolSculpting® at Chesapeake Vein Center and MedSpa works as the perfect complement to a healthy lifestyle, so you can receive a slim and trim figure and enhance your confidence in all aspects of your life.
This non-invasive fat removal technique is one of the most popular body contouring treatments currently available, and millions of people world wide have experienced its dramatic results first-hand. CoolSculpting works through a process called cryolipolysis, which was first discovered at Harvard Medical School. During this process, fat cells in a targeted area are frozen. The cells then shrink, and can be naturally flushed from the body through the lymphatic system. Your results will appear over the course of a few months for natural-looking, gradual fat loss.
CoolSculpting in Chesapeake requires no downtime, so you can immediately return to your daily activities. To learn more, or to schedule a consultation call 757-663-5461 today!