Whether you're back to school or back to working at the office, September can be a hectic time full of changes in routines. That's why we are here to tell you that September is National Self-Improvement Month AND National Self-Care Awareness Month! At Chesapeake Vein Center & MedSpa, we know how well self-improvement and self-care go together, and we're proud to offer the highest quality services designed to help you achieve both!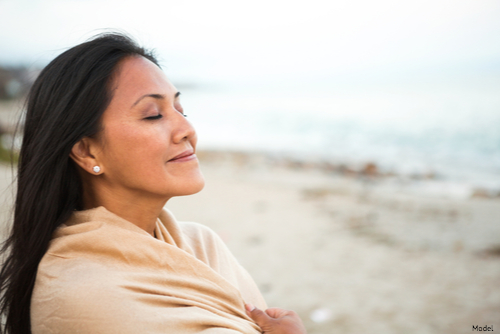 Prioritizing yourself with thoughtful self-improvements is really investing in your wellbeing and much-needed self-care. With this in mind, we want to share some of our favorite treatments for achieving popular self-improvement and self-care goals!
● Medical-grade skincare
Everyone loves enjoying the summer sunshine, but of course this also means harsh sun exposure and sweat on your skin. That's why now is the perfect time of year for refreshing and replenishing your skin with the help of medical-grade products from Environ®! Our team is ready to help you determine the ideal products and skincare regimen for you based on your individual skin needs and goals.
Medical-grade skin care can do even more than just daily maintenance. These products also formulated to enhance the benefits of your professional skin rejuvenation treatments! Using medical-grade products in coordination with proven skin treatments like Halo™ or a BBL™ photofacial, for example, helps you experience optimal benefits AND helps you maintain your results over the long term.
● Non-surgical body contouring
Our mission at Chesapeake Vein Center & Medspa is to help you love how you look and feel every day! So many of us are bothered by hard-to-lose areas of excess fat. If that sounds like you, you're not alone! Our expert staff are here to help you reach your body contouring goals with ease.
We offer CoolSculpting® non-invasive fat reduction because it delivers customizable results with little to no downtime, making it simple to fit into your daily schedule. CoolSculpting uses a fat-freezing process called cryolipolysis, delivered through advanced cooling panels, to target and disable fat cells in hard-to-lose areas like a stomach bulge, thigh fat, upper arm fat and more, all while you lay back and relax. Results are revealed in the following weeks and months as your body naturally flushes the disabled fat cells from your system. We typically recommend a series of treatments to achieve your best results.
● Healthy and sustainable diet changes
We all know how important healthy lifestyle habits are for long-term self-improvement AND self-care. We also know this is usually easier said than done, but the effort is totally worth it when you feel happier and healthier every day! To find true success with making diet and lifestyle changes, we encourage you to make changes that are both realistic and sustainable for your specific health needs and lifestyle. Otherwise, your adjustments won't last and neither will your results. If you're considering undergoing CoolSculpting treatments, that can also serve as added motivation to make and keep up with healthy diet and physical activities, since that is also the best way to maintain your slimmer, trimmer contours for years to come.
Are you ready to dive into self-care and self-improvement this fall and experience total body confidence? We know you are, so give us a call today at 757.819.7633 or request a consultation online to get started.