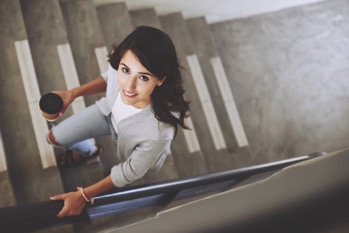 With 2019 a week away, chances are you're being inundated by get-healthy New Year's resolutions. If you feel overwhelmed by all the things you need to do to stay healthy, don't worry! Here are a few "health shortcuts" inspired by Real Simple.
When you can't do 30 minutes of cardiovascular exercise daily…
Try…
Power-walking or stair climbing for 10 minutes (3 times a day). Short bursts of high-intensity aerobic activity can be just as beneficial as longer periods of lower-intensity exercise, according to numerous studies. Remember that every little bit of activity helps. Even standing at your desk counts!
When you can't eat 5 to 9 servings of fresh fruits and veggies
Try…
Eating bean or vegetable soups, which are rich in fiber and protein and can contain as many nutrients as their fresh counterparts. Frozen veggies count, too! They are often just as nutritious and sometimes healthier than fresh produce because they are picked at the peak of ripeness. Stocking up on frozen veggies is an easy way to ensure you've got nutritious options any time.
When you can't brush or floss after every meal
Try…
Chewing sugarless gum or using a dental pick. Sugarless gum encourages your mouth to produce saliva, which acts as a natural cleanser, reducing food buildup in your teeth. Another easy tooth saver is a dental pick. Easier to use than dental floss, little dental picks are an easy way to discreetly dislodge food after meals.
When you can't lift weights at the gym
Try…
Lifting your body weight by doing push ups, planks or chin ups. We love this option because it doesn't require a gym membership or expensive workout clothes—just you!
Don't forget to treat yourself! Celebrate the New Year by scheduling that cosmetic treatment you've been dreaming about! Call  757.663.5461or schedule your free personal consultation today.