Last year, beauty influencers predicted natural, clean, and organic beauty to be 2019's biggest cosmetic trends, in addition to sustainable ingredients and streamlined skin care routines. We love everything about the natural beauty movement because it's raising the standard for skin care, as consumers are savvy and demanding products and treatments that not only deliver but are also healthier for both the consumer and the environment.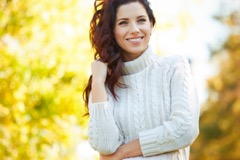 As a leading medspa in Hampton Roads, it's our job to notice aesthetic trends and bring you the leading treatments and skin care on the market. It's worth noting that natural, streamlined beauty regimens call for effortlessly radiant skin that doesn't need layers of makeup or product. Did you know that we have the leading technology and skin care to get you there? For example, our state-of-the-art laser skin rejuvenation treatments, such as Halo™ laser skin renewal and BBL™ photofacial, deliver the glowing complexion you crave by stimulating your skin's natural healing response — and you can't get more natural than that!
Now that fall has officially arrived and sunbathing season is over, it's the perfect time to schedule a treatment. Here are a few options for achieving luminous, effortlessly gorgeous skin:
Halo
The world's first hybrid laser skin treatment, Halo stimulates your skin with two potent types of energy to trigger intense revitalization within multiple levels of your skin both at the surface and deep below. The result is a fresh layer of vibrant, new skin that's brighter, smoother, and more evenly toned.
BBL photofacial
If downtime is your nemesis but you still want a brighter, more evenly-toned complexion, your skin care staple should be seasonal treatments with BBL photofacial. This non-invasive light treatment is the gold standard for removing stubborn pigmentation irregularities like sun spots, freckles, and redness, while also delivering smaller pore size and a brighter, healthy-looking glow with little to no downtime..
Micro-Needling and More!
Renewing your skin is the name of the game. Micro-needling uses tiny needles to stimulate healing and renewal for smoother texture and tonal improvements. Other skin resurfacing treatments to consider: MicroLaserPeel® and ProFractional™ skin resurfacing.
We'll help you choose the perfect treatment to meet your complexion goals this fall and beyond. We achieve amazing results by enhancing skin renewal with medical-grade skin care products. Discover your path to natural beauty by calling 757.819.7633 or request your personal consultation online today.