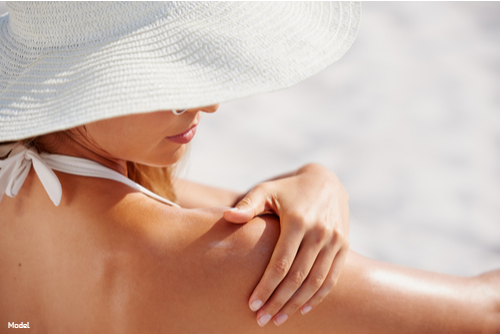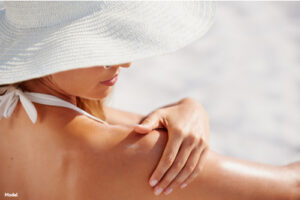 Summer confession: You got mildly sunburned. Not once, but twice this summer. You didn't mean to, but you were outdoors longer than you had planned to be! We know this scenario because we've been there. Whether walking the dog or gardening, we've all been caught off-guard by sun damage when we thought our skin was protected more than it was, or we simply forgot to apply sunscreen before we did an errand. Sun damage happens to the best of us. Fortunately, you don't have to live with your sun-damaged skin forever. All those dark spots and freckles and that redness and uneven skin tone you hate can be gone for good with a simple non-invasive technology at our medical spa!
We're talking about the award winning BBL® photofacial, of course! It's the most effective and advanced form of IPL technology on the market. BBL stands for Broadband Light, and this type of IPL treatment is made by Sciton®, a pioneer in laser skin treatments. BBL is the most powerful photofacial you can get, so we are extremely proud to provide this results-driven technology for you so you can enjoy the highest level of results possible.
Here's how BBL photofacial works:
Intense pulses of light stimulate your skin without breaking it… This means noticeable results with little to no downtime.
The intense light breaks up pigmentation like dark spots and freckles. The light can also target redness and rosacea and small veins or broken capillaries.
The intense light stimulates your skin's natural healing response, triggering the growth of vibrant new collagen and elastin, resulting in long-lasting skin improvements over time.
The more BBL's you do the better your skin will look. This is because every photofacial stimulates your skin to renew itself, prompting new collagen growth. All this collagen builds up, creating stronger, more resilient skin that looks brighter, tighter and younger.
Long-term BBL benefits include smoother, younger looking skin with diminished lines and wrinkles, tighter pore size, more even skin tone and much more!
Here's another proven sun-damage reverser: Chemical peels!
BBL photofacials are not for everyone. Certain skin tones may be better served with a series of expertly administered chemical peels. Chemical peels have been around forever because they are tried-and-true. Rather than using a laser or light, chemical peels use a chemical solution to exfoliate the outermost layer of skin cells, removing pigmentation concerns like dark spots and melasma, smoothing texture irregularities, brightening dullness and diminishing lines and wrinkles. Chemical peels vary in intensity, but for your best results, we typically recommend undergoing a series of milder peels rather than doing just one super intense/deep peel. Not only is it safer for your skin, but it also involves less downtime.
If you're ready to learn more about reversing sun damage with us, call 757.663.5461 or request a consultation online today. We can't wait to hear from you!