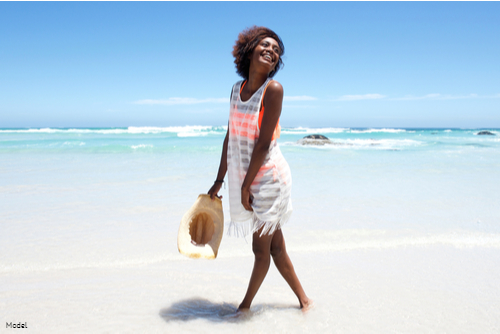 What does it mean to be "body-ready"? We believe it means something different to everyone. It's unique to you and your body goals. And because we want you to experience total body confidence this summer (and all year long), we're more than eager to help you get there! Sometimes diet and exercise alone just aren't enough to reach your ideal destination, so we've invested in the world's most popular non-invasive fat reduction treatment, CoolSculpting!
FDA-cleared CoolSculpting has helped millions of women and men improve their "trouble spots" of fat without downtime. At Chesapeake Vein Center and MedSpa, we're proud to provide the latest CoolSculpting technology to speed treatment times with increased comfort and effectiveness. Here's a closer look at how CoolSculpting may be able to help you achieve your best body yet:
CoolSculpting can slim almost any area of the body.
Using non-invasive cooling technology, CoolSculpting targets and freezes fat cells that don't go away with diet and exercise alone. The fat cells are then naturally flushed away by the body in the months following your treatment. We love CoolSculpting because it can target almost ANY stubborn area of excess fat, including:
Abdomen
Upper arms
Bra fat
Belly fat
Inner and outer thighs ("saddle bags")
Flanks ("muffin top", "love handles")
Double chin
Back fat
Fat below the buttocks
Distal thigh (above the knee)
CoolSculpting reveals natural-looking, gradual results.
Since CoolSculpting doesn't provide all-at-once, dramatic changes, if you're looking for more gradual improvements to get a feel for what you like, it may be an ideal treatment for you. We administer CoolSculpting with a series of treatments over the course of several months, revealing your results gradually as your disabled fat cells are naturally flushed from your body. You'll have plenty of time to adjust to your new, slimmer contours and decide whether you'd like to continue with more treatments or are satisfied with your current look.
CoolSculpting offers long-term improvements with a healthy lifestyle.
Over the course of a few months, your frozen fat cells will be permanently disabled. Once they're gone from your system, they're gone for good — as long as you maintain a healthy diet and exercise routine. Your remaining fat cells can still grow and expand if you gain weight, which is why CoolSculpting is not a weight loss treatment. Instead, it's a complement to a healthy lifestyle. You may also find it easier to stay motivated to eat well and stay active once you see how your body has improved. That way, you can enjoy your CoolSculpting results for years to come AND find ways to stay healthy in the process!
Total body confidence is almost yours! Learn more and get started today by calling 757.663.5461 or requesting a consultation online.