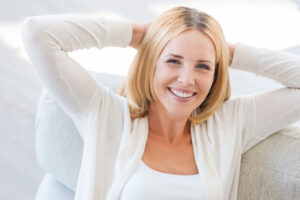 Is your sagging skin making you look older than you feel? Do you want to recapture the smooth, tight appearance of your youth, but aren't ready for surgery just yet? Chesapeake Vein Center and MedSpa has the solution for you! Liquid Facelifts are an effective and popular alternative to surgical facelifts, without the invasiveness and downtime of traditional facelifts.
A Liquid Facelift from Chesapeake Vein Center and MedSpa combines dermal fillers with a neurotoxin for simple but drastic results, without downtime. First, Dr. Surya Challa will inject the patients with Botox®, a popular neurotoxin that relaxes muscle activity and eliminates lines and wrinkles from the patient's skin. This injection significantly reduces the signs of aging and gives the patient a smoother, younger appearance with little to no downtime.
Next, Dr. Challa combines the Botox injection with a dermal filler like Juvéderm®. Juvéderm adds volume and fullness to the skin, filling in areas that have sunken and cause a sagging look. When combined with Botox, Juvéderm gives patients the lifted, bright appearance they want without the hassle of a surgical facelift.
Liquid Facelifts from Chesapeake Vein Center and MedSpa are a fast, effective, and no downtime solution for fighting the signs of aging. Tighten and lift your skin without any invasive measures today for a younger look almost immediately!
To find out if you are a candidate for Liquid Facelifts at Chesapeake Vein Center and Medspa, call us at 757-663-5461