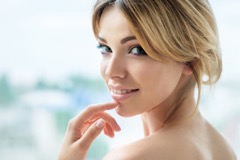 Want to know which skin treatment can reduce sun spots, redness, brown spots and pore size while revealing a luminous, healthy-looking glow? We're describing a photofacial, one of the world's most tried-and-true skin rejuvenation treatments.
Photofacials use non-invasive light energy to stimulate deep within without breaking the skin's surface, which means no downtime or lasting side effects with treatment. We proudly provide the most effective photofacial device on the market, the BBL™ photofacial, which stands for broadband light. BBL works to stimulate your skin's natural healing response and spur vibrant new collagen and elastin growth for a wide range of age-defying improvements with little to no downtime.
We will tailor your photofacial to your skin's unique concerns and goals. For example, brown spots, which are close to the surface of your skin, are treated with a different setting than redness, which lies much deeper. Optimal results are usually achieved with a series of treatments. Once we achieve the correction you desire, we can maintain and enhance your results with periodic maintenance treatments. And with minimal to no downtime, this revitalizing skin treatment easily fits into your routine.
To learn more about photofacials at Chesapeake Vein Center and Medspa, please call  757.663.5461 or request your personal consultation online today!