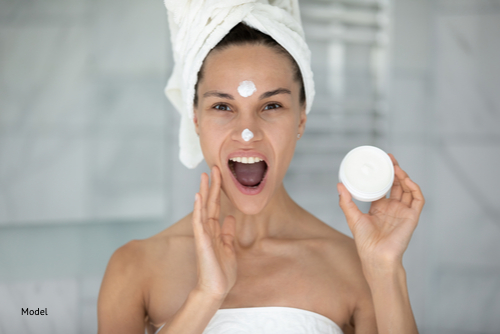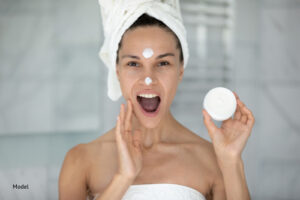 At Chesapeake Vein Center & MedSpa, R&R stands for Replenishing and Restoring your complexion! Here's what you need to know about R&R and what you may be doing wrong with your skin care regimen.
To replenish and restore your complexion, you need:
1. New collagen and elastin growth
Collagen and elastin are the building blocks for strong, supple, youthful skin. The fastest and most effective way to stimulate new collagen and elastin growth is treating your skin to professional skin treatments. At Chesapeake Vein Center & MedSpa, we proudly offer Halo™ fractional laser skin resurfacing, BBL® photofacial, MicroLaserPeel®, microneedling, chemical peels, clinical facials and microdermabrasion. Though these treatments work differently, they all have the same goal: To renew skin by stimulating its natural healing response. As your skin heals, it generates new collagen and elastin, resulting in a wide range of complexion improvements including smoother texture, more even tone and youthful radiance.
2. Daily "workouts" for your skin.
While treating your skin to professional skin treatments with us is essential, you'll also need to boost your results at home by giving your skin daily workouts. That's right, your skin needs a good workout just like your body. Are your skin care products up to the task? To keep your skin looking its best, you need to apply results-driven skin care products every day. Specifically, you need products that literally stimulate your skin to produce new collagen and elastin. We proudly carry a wide selection of Environ® skincare products for this very reason. Environ is a highly acclaimed medical-grade skincare line rooted in science and integrity to help nourish and revitalize skin. Environ products are formulated with meticulous attention to ingredients and clinical research to provide dramatic benefits to the look and feel of skin. Packed with vitamin A and other proven ingredients, Environ skincare is a wonderful way to give your skin a "good workout," generating vibrant new collagen and elastin, speeding cellular turnover and promoting youthful radiance. (This month, we're offering 15% off the Environ Hydration Skincare Package, which includes Hydra-Intense Cleansing Lotion, Botanical Infused Moisturising Toner and Vita-Complex Super Moisturiser!) You simply can't beat the winning combination of professional skin treatments and medical-grade skin care. These two R&R staples work synergistically to provide simply stunning complexion improvements that last.
3. Last R&R Tip: Don't overdo it.
Have you ever experienced red, itchy, flaky skin after applying a lot of pimple medication over a short period of time because you were trying to dry up a pimple super fast? Probably the better question is, "Who hasn't?" Regardless, it's a sure sign that you have compromised your skin. It's not the end of the world, but redness and flaking can mean a few things: 1) You are most likely in dire need of some moisture! (It's time to switch to hydrating formulas and steer clear of skin smoothers like alpha hydroxy acid.) 2) You may be overdoing it with some aspect of your results-driven skin care regimen. When it comes to active ingredients, it may seem like slathering on a whole lot of product is a good thing, and you'll get bigger results faster, but it doesn't work that way. Your skin is a living organ. It takes time for your skin cells to turn over and for new collagen and elastin to generate. Active skin care products work gradually to help your skin. Simply put, you can't hurry your results, but you'll be pleasantly surprised just how soon you'll start noticing improvements! To learn more about replenishing and restoring your complexion this fall, please call
(757) 819-7633
or
request a consultation online today!